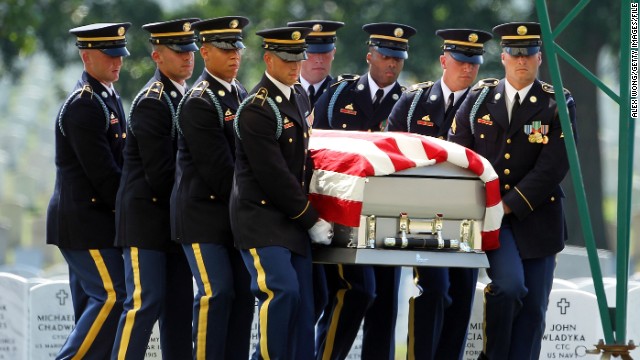 (CNN)The last thing you should have to think about when you have lost a spouse to war is taxation. And yet for Gold Star spouses now facing a tax hike they didn't expect, it's probably hard to think of anything else.
The tax increase came about inadvertently because of what is called the "Kiddie Tax," a provision that was part of the 2017 tax cuts. As the military publication
Task & Purpose
, which first reported the story, explained, "(p)reviously, survivors benefits that were allocated to the children of a fallen service member were taxed at the (surviving) parent's rate. Under the new tax code, those benefits are instead treated the same as a trust or estate, which means they can be taxed at a rate as high as 37%, and that threshold is reached faster than it was before. While the change in the tax code may have had an immediate financial impact on Gold Star families this year, it may be a consequence of a more pervasive problem with how survivors benefits are classified and paid out." This provision was intended to catch trust fund children, not Gold Star sons and daughters who need this income to get by.
Task and Purpose cited an example of the widow of a Navy officer killed in a helicopter crash, whose two children have received monthly survivor benefits. "For the past several years she's had to pay roughly $1,150 in taxes on her sons' benefits. This year, it was $5,400," Task and Purpose
reported
.
Addressing the tax on military survivor benefits is urgent, not only to provide financial relief to Gold Star families, but also to re-establish American principles surrounding how we treat those who serve, including their families. Let's hope we use this moment of awareness as an opening to do better by people whom we have asked to give their country their best by thinking through the consequences of policy on these families right from the start.
Indeed, the problem is that surviving military spouses often put a Pentagon-paid survivor benefit in their children's name rather than their own because if they put it in their own, it will cost them money each year on Tax Day. This is because, according the charity Tragedy Assistance Program for Survivors (TAPS), Gold Star spouses receive a tax-free benefit paid by the Department of Veterans Affairs to surviving spouses of service members killed in the line of duty or veterans whose death resulted from a service-related injury or disease.
This tax-free benefit is "offset" — or reduced — because federal law requires a $1 subtraction from survivors benefits of spouses for every dollar of VA benefit they receive. In other words, as Candace Wheeler with TAPS explained to me in an interview, the tax-free VA benefit the surviving spouse receives counts against their DoD benefit. This leaves spouses who already have sacrificed a great deal for their country — moving frequently, leading their families through deployments and tragically losing their spouse and likely breadwinner — to sacrifice even more: their financial health.
America can do better by its Gold Star families in so many ways. The fact that tax code changes went into effect without considering those who lost loved ones in service to America reminds us once again how disconnected we are from our wars and families who sacrifice for them.
For years veterans' advocates and those who speak up for military families urged the government to stop this "offset" of benefits. As veterans' advocates, including Rita Barry-Corke at TAPS, note, for the past 18 years, legislation with bipartisan support has been introduced to fix the offset. Now, in 2019, this tax provision aimed at catching trust-fund babies, not unintentionally taking money from Gold Star families, has thrust this penalty into the public eye. It is time to
pass the legislation
to fix this issue once and for all.
In 2013 the US government shut down, but did not stop sending its young men and women to war. This meant,
as I reported in 2013
, that service members could be sent into battle, but their families would receive no benefits during the shutdown if they were killed in action. As I learned while reporting for my book "Ashley's War," when service members died on a nighttime operation in Afghanistan during the 2013 shutdown, the government couldn't even pay to fly a mother of a fallen soldier to Dover, Delaware, to collect her child's remains. The veterans organization Fisher House ended up
stepping in
to help cover for the government until it reopened.
Gold Star families should never be an afterthought. For them, the loss does not end. A country that sends young people into war must do better by those left behind. Fixing the tax system to let them keep the money owed to them as a result of their loved one's sacrifice is a start.
Original Article : HERE ; This post was curated & posted using : RealSpecific
This post was curated & Posted using : RealSpecific
Thank you for taking the time to read our article.
**********************************************************
Interested in building a blog or auto-blog like this one ? Or just want to order one ?  Join our "Blogging Tips Tricks and Resources Skype" Group and let's chat about it. 
Join "Blogging Tips Tricks and Resources Skype" HERE
Interested in Starting your own Roku TV Channel ? Or interested in learning how to build one ? Join our "Roku TV Channel Development" Skype Group and let's chat about it. 
Join "Roku TV Channel Development" HERE
**********************************************************
If you enjoyed our content, we'd really appreciate some "love" with a share or two.
And ... Don't forget to have fun!